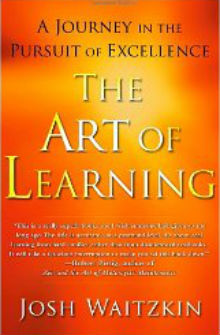 Overview: Josh Waitzkin, the author of the book, is the guy who the movie Searching for Bobby Fischer was based on. He became a chess God at a young age and went on to compete at high levels of martial arts. When he was young he might not have had as much of an awareness of his learning process and how to refine it, in this book he breaks down how he obtained mastery in both chess, and later in martial arts. Waitzkin takes us down a path of understanding how to learn to eventually become a top performer in a field. It is both intriguing and entertaining reading about someone analyzing all of the trials and progressions of their path to becoming a master.
Lesson: A lot of different things can be derived from this book, but for me the one that resonated the most to me was this, taken straight from the text:
In every discipline , the ability to be clearheaded, present, cool under fire is much of what separates the best from the mediocre.
Look at any of the greatest performers in any discipline. They all are able to stay clearheaded and present even when the pressure is at its greatest.
Important Passages (per Sean):
This might sound like a dream for a seventeen-year-old boy, and I won't deny enjoying the attention, but professionally it was a nightmare. My game began to unravel. I caught myself thinking about how I looked thinking instead of losing myself in thought. The Grandmasters, my elders, were ignored and scowled at me. Some of them treated me like a pariah. I had won eight national championships and had more fans, public support and recognition than I could dream of, but none of this was helping my search for excellence, let alone for happiness.
What I have realized is that what I am best at is not Tai Chi, and it is not chess— what I am best at is the art of learning. This book is the story of my method.
If I disagreed with him, we would have a discussion, not a lecture.
I learned at sea that virtually all situations can be handled as long as presence of mind is maintained.
Learning theorists, on the other hand, are given feedback that is more process-oriented.
Studies have shown that in just minutes, kids can be conditioned into having a healthy learning theory for a given situation.
The key to pursuing excellence is to embrace an organic, long-term learning process, and not to live in a shell of static, safe mediocrity. Usually, growth comes at the expense of previous comfort or safety.
In the long run, painful losses may prove much more valuable than wins— those who are armed with a healthy attitude and are able to draw wisdom from every experience, "good" or "bad," are the ones who make it down the road.
Of course the real challenge is to stay in range of this long-term perspective when you are under fire and hurting in the middle of the war. This, maybe our biggest hurdle, is at the core of the art of learning.
One idea I taught was the importance of regaining presence and clarity of mind after making a serious error. This is a hard lesson for all competitors and performers. The first mistake rarely proves disastrous, but the downward spiral of the second, third, and fourth error creates a devastating chain reaction.
I believe that one of the most critical factors in the transition to becoming a conscious high performer is the degree to which your relationship to your pursuit stays in harmony with your unique disposition.
The human mind defines things in relation to one another— without light the notion of darkness would be unintelligible
My emotional state was bizarre. I had just lost the World Championship and the love of my young life, and I hadn't slept in six days, but I was more alive than ever before.
I have long believed that if a student of virtually any discipline could avoid ever repeating the same mistake twice—both technical and psychological— he or she would skyrocket to the top of their field.
The learning principle is to plunge into the detailed mystery of the micro in order to understand what makes the macro tick.
Depth beats breadth any day of the week, because it opens a channel for the intangible, unconscious, creative components of our hidden potential.
If I want to be the best, I have to take risks others would avoid, always optimizing the learning potential of the moment and turning adversity to my advantage.
When aiming for the top, your path requires an engaged, searching mind. You have to make obstacles spur you to creative new angles in the learning process. Let setbacks deepen your resolve. You should always come off an injury or a loss better than when you went down.
In every discipline , the ability to be clearheaded, present, cool under fire is much of what separates the best from the mediocre.
At LGE they had discovered that there is a clear physiological connection when it comes to recovery— cardiovascular interval training can have a profound effect on your ability to quickly release tension and recover from mental exhaustion. What is more, physical flushing and mental clarity are very much intertwined.
Presence has taught me how to live.
But, when our emotions overwhelm us, we can get sloppy. If fear reduces us to tears, we might not act effectively in a genuinely dangerous situation. If we seethe when someone crosses us, we may make decisions we come to regret. If we get giddy when things are looking up, we will probably make some careless mistakes that turn our good situation upside down.
There will always be creeps in the world, and I had to learn how to deal with them with a cool head. Getting pissed off would get me nowhere in life.
If I have learned anything over my first twenty-nine years, it is that we cannot calculate our important contests, adventures, and great loves to the end. The only thing we can really count on is getting surprised. No matter how much preparation we do, in the real tests of our lives, we'll be in unfamiliar terrain. Conditions might not be calm or reasonable. It may feel as though the whole world is stacked against us. This is when we have to perform better than we ever conceived of performing. I believe the key is to have prepared in a manner that allows for inspiration, to have laid the foundation for us to create under the wildest pressures we ever imagined.